Universal DjVu to PDF Converter & all about DjVu
100% free - No hidden charges, no need to download or install any software
Compression: Converts DjVu to PDF files with a minimal file size
No registration or sign-up required! We will never ask you for your email address
Realtime conversion: You can watch the conversion progress of your DjVus in real time
What is DjVu? - A defintion.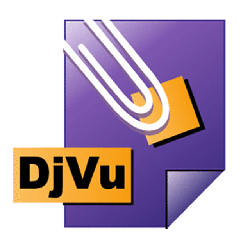 If you have ever been wondering what a DjVu file is you just arrived at the right place: The short answer is that it is portable file format like Adobe PDF which is mainly used for eBooks and scanned documents. The DjVu file format is using the extensions .djvu and .djv and was developed at AT&T research labs nearly 20 years ago. It uses arithmetic encoding and lossy compression algorithms in order to achieve small and fast loading files. If you just want to open a DjVu the quickest solution is to convert it directly to PDF using our online converter.
Are there good reasons for converting DjVu to PDF?
The answer to this question completely depends on what you are planning to do with your DjVu file. In general DjVus behave quite nice when installing the right readers to open them. However, when you are using a mobile device with Android or Mac OS it might be a good idea to convert your DjVu to PDF. Like that you can use the PDF viewer which is natively provided by your device. There are only view programs which support opening DjVus on smart phones (see our list of DjVu Readers).
The Main Features of our PDF converter:
Our PDF converter enables you to convert DjVu to PDF online. Thereby we offer various conversion options for all possible use-cases:
In case you want to convert a .djvu file to read it on an eBook reader we offer to convert DjVu to Adobe PDF files with a small file size which helps you to save disk space on the device.
If you want to convert the DjVu file in order to use it on your Desktop PC we offer an optimized conversion where the produced PDF file mimics the original DjVu document as much as possible.
In the second case our converter keeps the color schema of the original .djvu file
By converting the hidden OCR layer of the original DjVu also the PDF will be searchable after the conversion
Preview feature: Before starting the conversion you can choose which option performs better for your particular eBook by using the preview feature of our converter.
After selecting the desired option for your DjVu, you can start the conversion process, which usually takes less than one minute to complete. Depending on the file's size, conversion time of the PDF conversion may vary of course. Therefore you cannot do anything wrong trying our DjVu converter. We are convinced that you will enjoy the smooth and hassle free conversion experience like many of our clients before. Next to our DjVu to PDF c